Marlborough Fly Fishing Show , January 20-22, 2017
Pioneer Valley Chapter staffing the MA/RI Council table at the 2017 Marlborough Fly Fishing Show. Thanks to chapter members Bill Donnelly, Jerry Fratini, Rosemarie Goyette, Gary Metras, Dan Moraski, and Bob Regish. We talked up the TU mission, handed out membership applications, networked, and raised some money for the chapter. A good time had by all.
---
Letter from Council Chair, January 2017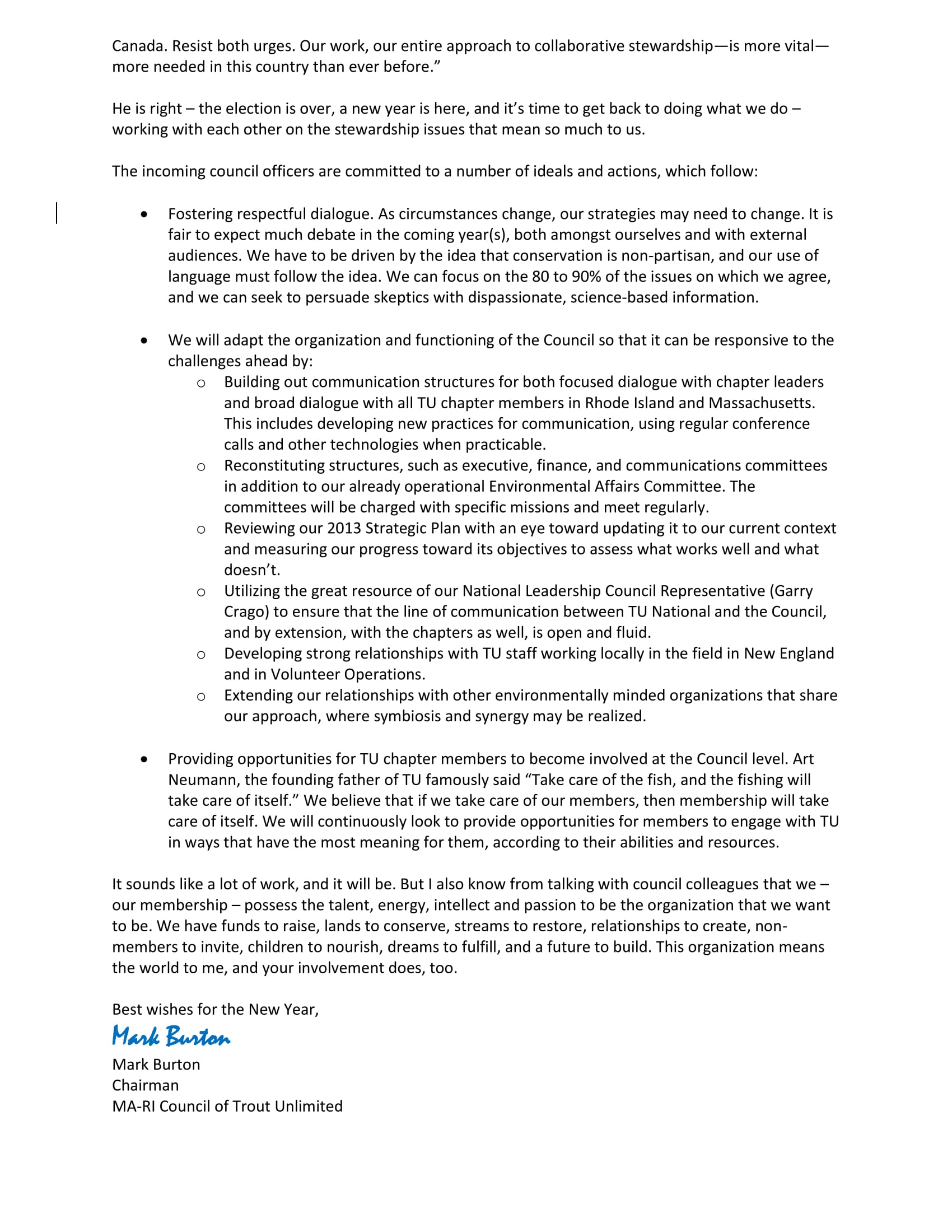 ---
Pioneer Valley Fly Tying Extravaganza!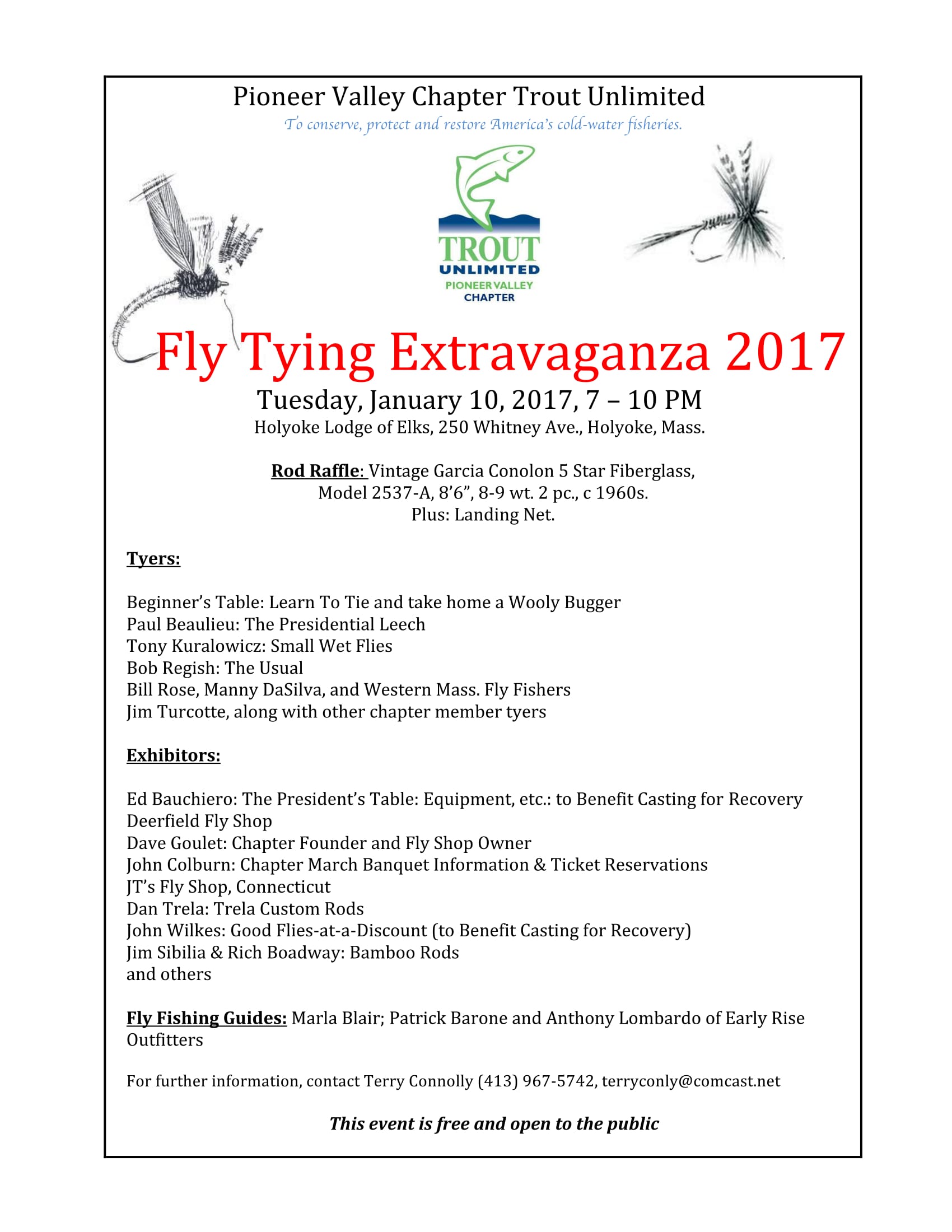 ---
2017 Meeting Schedule Announced
MA-RI Council of Trout Unlimited has announced the following meeting schedule for 2017:
January 29
April 23
May 20 (@ Indian Hollow)
September 24
December 10
All meetings will be held at the Massachusetts Audubon Broad Meadow Brook Conservation Center in Worcester, MA, unless noted differently above.  The meetings begin promptly at 11 a.m. and conclude by 1 p.m.
---
Northeast Regional Meeting, June 2016, Mt. Sunapee, NH
 Here is a large component of what the TU regionals are all about: people from different states coming together for their shared love of healthy rivers and the trout they sustain.  Shay Berry, VT; John Troiano, RI; Jerry Eves, MA; Tony and Kate Hill, CT met in Enfield, NH to fish the Mascoma River.  Yes, they all caught fish.  And yes, they all worked hard the rest of the weekend on important TU matters.   Photo by Gary Metras, MA.
---
Many thanks to everyone who attended Indian Hollow.  It was a great time as usual and the raffle, auction and bake sale brought in much needed funds to the Council to continue our cold water conservation mission.  Please submit photos from the event you'd like to share with others.
---
SAVING SEA-RUN BROOK TROUT—ONE OF THE FEW REMAINING SALTER STREAMS NEEDS OUR HELP NOW.
Click here to contribute.
Along the beautiful, rugged shoreline of Westport MA, the Angeline Brook and its branches provide home waters to one of the most important remaining native sea-run brook trout populations in all of New England.
In the face of encroaching development, the Massachusetts/Rhode Island Trout Unlimited Council has a rare opportunity to help preserve it.
How we can help.
The Angeline Brook Land Conservation Project will acquire and permanently protect 102 acres of forested land, including 1.7 miles of high-quality coastal stream habitat along the Angeline Brook watershed.
The project will connect to existing conservation lands, creating a contiguous area of over 630 acres straddling both sides of Angeline Brook, its side channels, and its tributaries.
These assembled parcels and waterways will provide critical protection for one of only two Massachusetts areas where the status of coastal brook trout populations are considered "Abundant."
The mission of Trout Unlimited is to conserve, protect, and restore North America's coldwater fisheries and their watersheds.
The MA/RI Trout Unlimited Council and its constituent chapters are now seeking to support the Buzzard Bay Coalition and its partners in the land acquisition for The Angeline Brook Project to protect this rare and vital coastal stream and its associated watershed lands.
Time is limited for us and the sea-run trout.
Eastern brook trout are declining throughout their range due land use change, habitat loss and fragmentation, and interactions with non-native species.
The proposed land acquisition has been identified by the Massachusetts BioMap 2 as "Core Habitat" and "Critical Natural Landscape." The Angeline Brook system is one of the most important clusters of remaining native sea-run brook trout populations along New England's coast.
The Angeline Brook Land Conservation Project has the opportunity to acquire and protect some of the most important lands that support this important resource. In order to secure the remaining $100,000 to purchase the remaining land and embedded watershed, the project needs to be funded by June 1st, 2016.
With the financial support of the member chapters of the MA/RI Council of Trout Unlimited, and with truly valued donations from you, we can meet this goal.
Click here to contribute.
Thank you so very much. See you on the water!
---
---
2016 TU National Northeast Regional Meeting – June 10-12, 2016 — Newbury, NH
Join fellow anglers and TU volunteer leaders from across the Northeast on June 10-12, 2016 in Newbury, NH, at the Mount Sunapee Resort for enlightening presentations, inspiring dialogue and engaging camaraderie with those who share your dedication to TU and our mission. TU regional meetings are occasions to be inspired – by the work of TU staff, lessons from volunteer leaders, and conversations with newfound friends. They are also an excellent opportunity to discuss the unique issues facing the region as well as a chance to network and build relationships with fellow TU volunteer leaders.